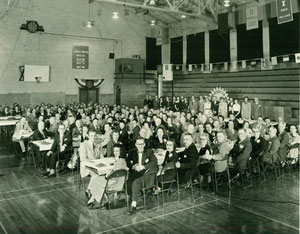 Salute to Rotary
    There never was a bad man who had ability for good service. This thought comes to mind today as the Greenville Rotary club celebrates its 25th anniversary. The Daily News is happy to congratulate this group of business and professional leaders on this auspicious occasion. Rotary's official name is Rotary International. And at the world level it is one of the best forces for good and international good will. Equally important to the residents of this area are its accomplishments at the local level. Rotary has accomplished many things in this community. A partial list includes aid in organization of a Chamber of Commerce, support of programs for hospitals and new schools, staging of annual Halloween parties for children and sponsorship of Rotary Clubs at Belding, Cedar Springs and Stanton. For those who aren't familiar with them, we suggest reading Rotary's aims. They are:
Development of acquaintances as an opportunity for service.
High ethical standards in business and professions; recognition of the worthiness of all useful occupations; and the dignifying by each Rotarian of his occupation as an opportunity to serve society.
Application of the "Ideal of Service" by every Rotarian to his personal, business and community life.  
Advancement of international understanding, good will and peace through a world fellowship of business and professional men united in the "Ideal of Service."
Some 350,000 members in 83 countries are united in this cause. International Rotary may be, but its aims are truly American. Real Americans endorse them. To the Rotarians of Greenville, our best wishes for another quarter century of outstanding service.
Article from Greenville Daily News